Abrasive Blasting Equipment
AIRPLUS supplies abrasive blasting equipment from portable solutions to dedicated blast rooms and fully automated systems, plus media recovery systems in Canada.
Abrasive Blasting
Abrasive blasting is the process of propelling a stream of abrasive material against a surface using a compressed-air stream. Abrasive blasting is a common, reliable, cost-effective method of surface preparation and metal finishing to clean, deburr, scale and remove rust leaving the metal surface with a desirable finish as a substrate for painting, powder-coating or other final finishing processes.
Compressed Air Abrasive Blasting Equipment

Compressed air abrasive blasting equipment is generally used with loose abrasive blast media and offers a reliable technique for a wide range of surface preparation including shot peening, degreasing, cleaning and stripping. AIRPLUS Industrial offers a diverse range of equipment options including:
Air Blast Rooms: Controlled and environmentally clean blast rooms with abrasive recycling for high efficiency and high productivity operations.
Air Blast Tumble Equipment: Mill driven tumble blast machines with oscillating nozzles and cyclone separator and rubber lined chamber.
Fully Automated Blast Systems: Fully automated blasting machines offer precision and safety for performed operations. These systems allow you to achieve an increase in efficiency, improvement and consistency of quality of work done and the ability to redeployment manpower to more important, less monotonous work.
Robotic Blast Systems: Commercially available robots can successfully be integrated into a variety of pre-engineered robotic blast cells, customized robotic blast systems and robotic blast rooms.
Portable Blasting Systems: Portable pressure pots in a range of sizes for increased productivity with any abrasive media, depending on your application.
Portable Blasting System Packages: Prepackaged systems including remote controls, safety equipment and respiratory accessories – contact our sales team to build a package to your specifications.
Blast Cabinets: Cabinets in a range of sizes for any application. Available in economically priced suction (siphon) feed systems or in direct pressure style cabinets for those higher volume applications.
Bulk Blasting Systems: Bulk blasters are available as stationary systems or mounted on highway and yard trailers for total portability.
Recovery Systems: Blast systems that blast and vacuum simultaneously for removal of coatings, corrosion, and other materials in applications where traditional open-air blasting is prohibited or impractical. We also provide pneumatic and mechanical recovery systems.
Cryogenic Deflashing Systems: Cryogenic deflashing machines for rubber, plastic, diecast, magnesium and zinc components.
Wet Blast Equipment: Wet surface treatment process equipment, mixing abrasive with water thereby eliminating frictional heat; this surface preparation method deburrs by means of a scrubbing action verses impingement and abrasion found in dry blasting.
Abrasive Blast Equipment Accessories
Whatever your requirements are, our team of qualified sales personnel can assist you in selecting the right equipment for the application. We stock a variety of accessories like quality carbide sandblasting nozzles, couplings and blast hoses and a full selection of wear parts for the equipment to keep you operational.
Abrasive Blast Safety Equipment
Health Hazards of Abrasive Blasting
Abrasive blasting operations can create high levels of dust and noise. Abrasive material and the surface being blasted may contain toxic materials that are hazardous to workers. Employers must protect workers from hazardous dust levels and toxic metals that may be generated from both the blasting material and the underlying substrate and coatings being blasted.
Safety Equipment Types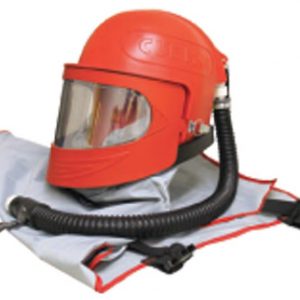 AIRPLUS Industrial offers a full line of safety equipment for abrasive blast operators including:
hearing protection
respiratory protection
protective clothing – gloves, helmets & aprons
safety glasses/goggles
vacuum systems
portable barriers to isolate blasting operations
Brands We Trust