Industrial Fan & Blower Manufacturer
NYB offers uncompromising quality, outstanding delivery and dedicated innovation when it comes to air-moving equipment – fans & blowers – for more than 130 years.
NYB Fans & Blowers in Western Canada
The New York Blower Co. is a world leader in manufacturing premium-quality, engineered fans and custom blowers in the industrial and OEM marketplace. NYB is able to engineer individual, flexible, customized solutions that meet the specific requirements of unique applications. Their heavy industrial product line and consistent axial development have helped to expand to markets such as boilers, locomotives, nuclear and mining. Their extensive investment in technology and people allows them to process, repair, upgrade and rebuild any competitor equipment.
AIRPLUS offers a full line of NYB fans and blowers and designs solutions, incorporating NYB products to meet your air-movement needs throughout Western Canada.
NYB Industrial Fans & Blowers in Western Canada
The New York Blower Company designs and builds industrial air blowers and fans to move air in all types of commercial and industrial applications. Today, they offer one of the most complete portfolios in the world, consisting of literally thousands of different types, models and sizes of air-movement equipment.
By carrying the broadest product line in the industry, they are able to engineer individual, customized solutions that meet the specific requirements of even the most demanding industrial and commercial applications, including:
Centrifugal Ventilator Fans
Axial Ventilator Fans
Plenum Fans
Double Width Fans
Fibreglass Reinforced Plastic Fans
Process Heat or Plug Fans
Fans for Corrosive Environments
Their range also includes fans and blowers for special requirements, such as temperatures to 1300° F., pressures to 85″ WG and flows to 350,000 CFM. A variety of materials for construction are available, including fibreglass, aluminum, stainless steel and hot-dip galvanizing, along with numerous special coatings.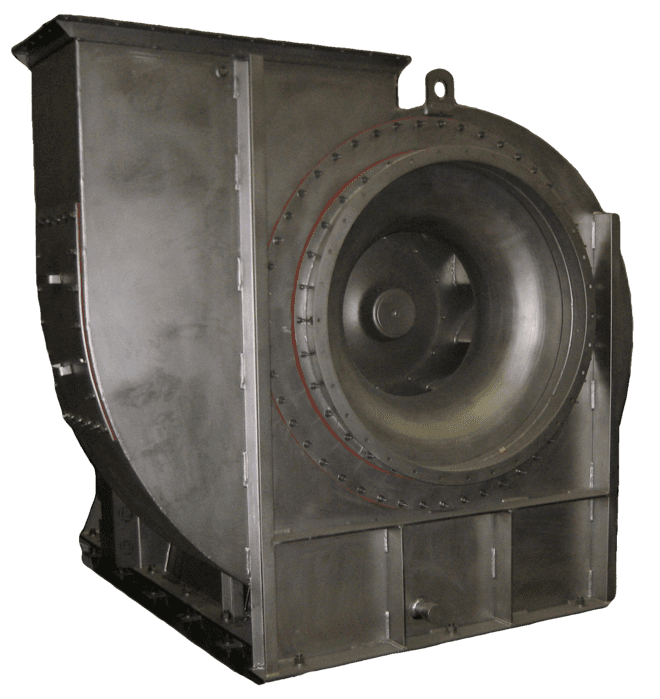 Choosing the proper system for your application is dependent upon many factors. AIRPLUS Industrial has 30+ years of experience in designing, sourcing, installing and maintaining these systems — we can help you choose the right system for your facility.