Fire Panels & Alarm Systems
Central Fire Alarm Control Panel Systems
AIRPLUS designs central one-panel fire systems or complex multi-panel networks, integrated with intuitive software to help protect people & property every day.
Axis AX High-Performance Panels
Axis AX product lines are high-performance, UL 864 compliant panel systems that come complete with digital audio.
The Results of Decades of Research
Axis AX is the result of decades of fire alarm and detection experience and research. They offer power and performance in a user-friendly format.
More Control Built-In
Axis AX packs in more configuration, control and interface options than any comparable Advanced product line with forward-thinking features mean that will maintain performance advantages into the future.
Key Industries
Server Rooms
Data Centres
Telecom Switches
Museums
Physical Data Archives
Oil & Gas Industry
Power Generation
Marine Tech
Fireproof Vaults
Modular Design for Easy Installation
All of the Intelligent Fire Alarm Control Panels in the AX Series consist of identical electronic modules and can be programmed from a laptop PC configuration tool. Axis AX's features have been proven to sharply reduce installation time, help identify wiring and programming errors, provide local and remote system diagnostics as well as providing exceptional fire detection without causing nuisance alarms.
PC Programmable & Network Capable
Every Axis AX panel features Advanced's unbeatable networking capabilities and Dynamix Tools fire panel software making it easy to use, configure and maintain, from the smallest to the largest of sites and with complicated cause-and effect.
3M™ Novec™ 1230 Fire Protection Fluid
Video
This video explains how 3M Novec 1230 waterless fire suppressant extinguishes fires in Data Centres and Server Rooms without damaging the computer electrons and will allow sensitive electronics to continue operating.
Developing Systems using 3M Novec 1230 
AIRPLUS shares SEVO Systems' mission to develop and commercialize equipment and systems optimized for the unique properties of 3M™ Novec™ 1230 Fire Protection Fluid for the use in fire protection, differentiating us and SEVO from all other OEM's.
Force 500: Total Flooding Fire Protection System
The SEVO™ 1230 FORCE500™ Clean Agent Fire Suppression System is a revolutionary new technology for clean agent systems that utilize 3M™ Novec™ 1230 Fire Protection Fluid and its unique ability to be pressurized to 500 psi (34.5 bar). This allows for longer pipe runs and smaller pipe diameters, in addition to the cost-saving benefits of using less clean-agent in smaller and fewer cylinders per project.
Along with these new engineering capabilities, the FORCE500 includes standard monitoring components such as an integrated pressure switch, pressure gauge, and gauge guard. The low vapour pressure of Novec 1230 Fluid allows for the use of low-pressure welded cylinders and Schedule-40 piping. With these revolutionary features, the FORCE500 stands-out over conventional 360 psi (25 bar) systems.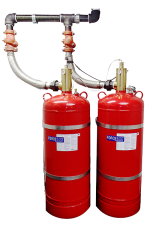 Modular: Pre-Engineered Clean Agent Systems
The MCV (Modular / Cylinder / Valve Assembly) Series is an integrated Clean Agent Fire Suppression System utilizing 3M Novec 1230 Fire Protection Fluid. It is equipped with the Notifier RP 2002 agent releasing control-panel that is prewired and programmed. The electric actuator, piezo alarm, horn and strobe, and maintenance-disable-switch are prewired to the agent-releasing control-panel allowing for minimal remote devices to be wired.
Fire Flex: Integrated Pre-Action Fire Suppression System
The new FireFlex® Dual integrated system consists of a clean agent fire extinguishing system, factory- assembled in a cabinet. It integrates all the components necessary for a complete extinguishing system, including the agent-releasing control panel.
The FireFlex® Dual System uses 3M™ Novec™ 1230 Fire Protection Fluid. This clean extinguishing agent is based on sustainable technology and is the only chemical agent currently available that meets the most stringent actual and future environmental standards. Novec 1230 fluid is the only extinguishing agent that allows a 1 for 1 cylinder replacement for Halon.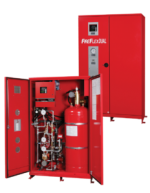 Other Server Room Fire Protection Products
Brands We Trust
We offer the following explosion protection equipment and solutions:
Firefly spark detection and extinguishing systems for pneumatic ducts & conveyors.
Firefly Quick Suppression systems for machinery & space protection.
IEP Active Explosion suppression for equipment & pneumatic process isolation.
Vigilex Passive vents and for equipment & process protection.
SEVO Novec-1230 for Data Centres
MCC control room and Power Distribution Centre protection.
Firetrace pre-engineered solutions for small space & cabinet protection.
Advanced Fire Systems for building fire alarm detection & notification.
inControl CO2 fire suppression for outdoor spaces & equipment.