Fire Panels & Alarm Systems
Central Fire Alarm Control Panel Systems
AIRPLUS designs central one-panel fire systems or complex multi-panel networks, integrated with intuitive software to help protect people & property every day.
Advanced Fire Panels, Alarm Systems, Devices & Peripherals
Advanced is a world-leading supplier of fire panels and alarm systems.
Advanced products are protecting people and property in 60 countries worldwide with an unmatched reputation for performance and quality.
Ease of Setup
Advanced fire panels are designed to be easily set up whether you are setting up a single panel or a network of 200 panels Advanced setup is intuitive and easy.
Continuous Improvement
Advanced dedicates 25% of their business to R&D each year to continuously improve product performance.
Quality Standards
Advanced manufactures all of their panels to demanding quality standards and hold global approvals. They enjoy full ISO 9001 compliance across manufacturing and design. All products are made in the UK.
Video
This video talks about Advanced products and corporation.
Axis AX High-Performance Panels
Axis AX product lines are high-performance, ULC-S527-19 compliant panel systems that come complete with digital audio.
The Results of Decades of Research
Axis AX is the result of decades of fire alarm and detection experience and research. They offer power and performance in a user-friendly format.
More Control Built-In
Axis AX packs in more configuration, control and interface options than any comparable Advanced product line with forward-thinking features mean that will maintain performance advantages into the future.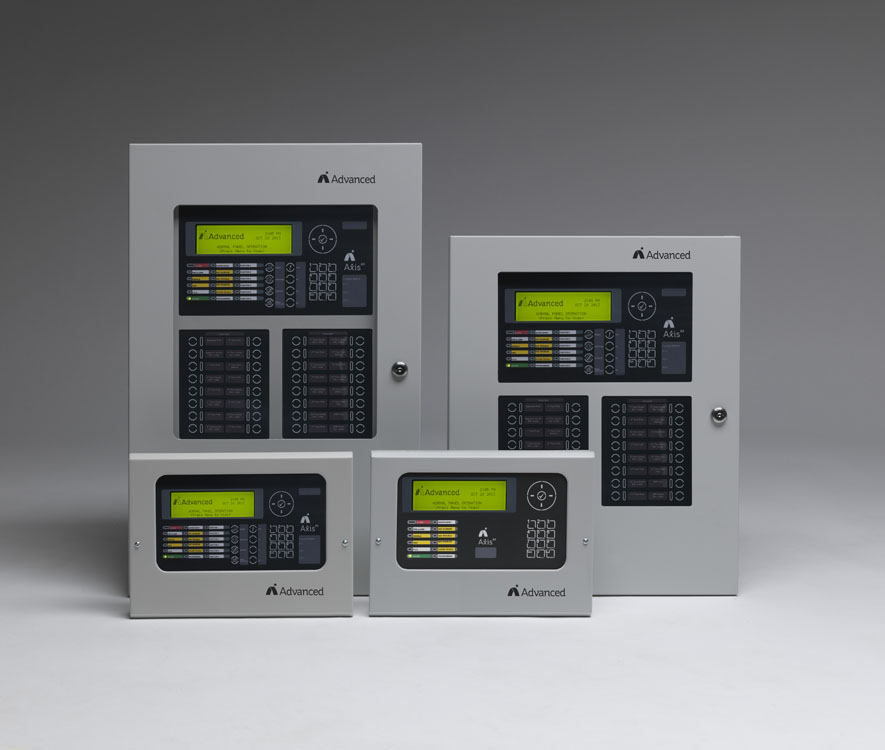 1,2,or 4 loop formats
Each 500mA digital signaling line circuit support up to 126 intelligent devices
1,000 Fire Zones when networked or 200 per panel
Easy, high performance networking (up to 200 nodes)
Circuit monitoring from any panel or annunciator
True peer to peer networking
Style 4 or 7 configuration
Individual node configurable event reporting and control
Comprehensive network diagnostics
Compatible with all of the AX Series peripherals including annunciators, relay modules, I/O modules, power supplies, internal and portable printers, network modules, LED/switch modules, modem, RS-232, amplifiers, DACT and more
Supports shielded wire, non-shielded wire and fibre optic lines
Beam detectors, smoke detectors, sounder bases, open area sounders and beacons can be powered from SLC without need for a separate 24V supply
Superb noise immunity and emissions
Regulated loop voltage sustained during AC loss 2 or 4 voltage regulated NACs compatible with most listed NAC devices
Two Amp current limit per NAC with alerts on panel or via email if limit exceeded
Advanced's Simple Select & Click programming & configuration
Panel includes large 240×60 backlit LED with
Advanced's simple navigation and programming
Unique, built-in voltage and current meters for easy diagnostics can be viewed on panel or remotely.
Unique auto-test of battery cell integrity
Direct USB and RS232 PC connections or Remote access and control of panels and network via Advanced ipGateway
Output fully regulated clean 24 volts DC to all Notification Appliance Devices, making the panels ideal for retrofit applications without fear of failing regulatory compatibility listings
100% digital communications on the SLC to all intelligent smoke detectors and I/O modules
Fast response and superior rejection of unwanted RF noise.
Multi-sensor programming options allow for supervisory pre-alarm upon programmable smoke obscuration and fire alarm upon programmable temperature fixed or rate of rise.
Fully integrated 40/80 Watt digital audio options
Autolearn and Loop detection
Quick start and protect – A working system after an Auto learn is performed ULC-S527-19'9th Edition' approved
AxisAX Audio
With the addition of an Advanced audio module (AV-AMP-80), any Axis AX control panel or Command Center becomes fully audio capable.
AxisAX Audio Product Brochures – Canadian Editions
Axis AX Command Centres are built on the backbone of their Axis intelligent fire panels to support a wide variety of configurations and applications.
Command Centres can be configured in the factory or, as all elements are individually approved, supplied in modular format for easy expansion and customization.
All Command Centres are fully compatible with Axis AX audio and telephone options and they can be configured for master control or peer-to-peer.
Master control mode allows for only one command centre to manually operate audio and main system control functions. Advanced's Riser 6 Audio Module can be mounted inside the command centre or remotely for added security.
Digital Communicator – only one required for 200 node network
AX-BMS Module – provides interface to Building Automation System
AX-DGP – data gathering panel
AES Long Range Radio
Graphic Annunciator(s)
P Gateway – only one required for 200 Node Network
Ad-View Graphics
AX-LOC – Local Operating Console
Smoke Control Panel
AX-VB Distributed Audio Panels
Synchronization of Audio and Strobes across entire 200  node network
Failsafe operation if loss of master Command Center
Supports multiple "true peer to peer" Command Center operations
Intuitive and Easy for Fire Fighters to operate
Audio confirmation LEDs indicate when speaker zones are active
All Call, Page Evacuate, Page Alert & Page Inactive and Selective Paging features
Manual activation of any message to any zone or group of zones
No performance degradation as the number of network nodes expands
Fan and smoke controls
Mass Notification and non fire "Warning" Options
Built-in telephone switchboard
Dynamix wizard tool provides default telephone and audio options making set-up easy and fast
Powerful control-by-event programming with intelligent system test facilities provides superior system diagnostic and test functions
Built-in network, AC power, Aux power, battery and field wiring diagnostics
Color coded slide in labels with large text to identify system functions
Fire warden page
PAS, 2-stage and alarm verification
Zone and point disable/enable
1000 system zones
Axis AX's loop device family is a  high-performance, easily installed and maintained family of devices. They offer a range of features and benefits suitable for almost any configuration.
AxisAX  Sensors & Bases – Canadian Editions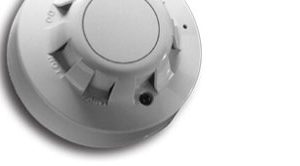 To view the Axis AX range of Sensors & Bases approved to ULC-S527-19, click on the images below to open the brochure.
AxisAX  Beacons, Sounders  & Pull Stations – Canadian Editions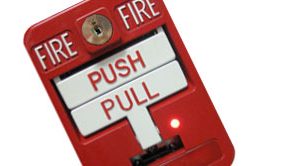 To view the Axis AX range of Beacons, Sounders  & Pull Startions approved to ULC-S527-19, click on the images below to open the brochure.
AxisAX  Intelligent Modules – Canadian Editions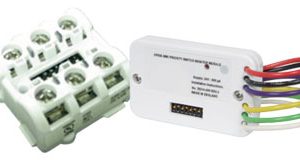 To view the Axis AX range of Intelligent Modules approved to ULC-S527-19, click on the images below to open the brochure.
AxisAX  Off-Loop NAC &  Conventional Devices – Canadian Editions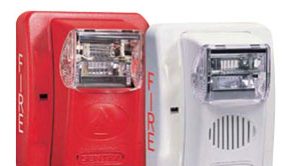 To view the Axis AX range of Intelligent Modules approved to ULC-S527-19, click on the images below to open the brochure.
AxisAX Peripherals – Canadian Editions
The Axis AX Fire alarm Control Panels can be customized for almost any requirement. The system includes a huge range of peripheral options, click on the images below to open the brochure.
Brands We Trust
We offer the following explosion protection equipment and solutions:
Firefly spark detection and extinguishing systems for pneumatic ducts & conveyors.
Firefly Quick Suppression systems for machinery & space protection.
IEP Active Explosion suppression for equipment & pneumatic process isolation.
Vigilex Passive vents and for equipment & process protection.
SEVO Novec-1230 for Data Centres
MCC control room and Power Distribution Centre protection.
Firetrace pre-engineered solutions for small space & cabinet protection.
Advanced Fire Systems for building fire alarm detection & notification.
inControl CO2 fire suppression for outdoor spaces & equipment.