IRD Series Baghouse Collector
Open Design for Wood Applications
IRD Series dust collectors are an economical solution for a range of wood dust applications by using downflow air to force dust off the filters into disposal bags.
Donaldson IRD Series Baghouse Dust Collector
The Donaldson Torit® IRD dust collector is designed to use a downflow air pattern and gravity to clean dust trapped on the inner surface of the filter bags and to force the dust into the disposal bags at the bottom of the collector. This unique design means that expensive compressed air is not needed in the operation of the IRD dust collector.
Features:
Complete dust collection package includes fan, fan motor, push-button fan starter, bag filters and clear plastic dust disposal bags
Fan provides high vacuum pressure with low operating sound levels for cleaner workplaces and lower sound levels
Down flow air pattern allows airflow and gravity to move filtered dust to collection receptacles for longer bag filter life and reduced pressure drop
Adjustable airflow baffles equalize dust dispersion to all collection receptacles, which minimizes emptying cycles
Cageless filters and tool-free filter replacement reduce maintenance time.
Filtered air returning to interior workspace reduces HVAC costs
Dura-Life™ "Twice the Life" bag filters provide longer bag life, which reduces maintenance costs and lowers pressure drop
Optional automatic shaker is available for better collector performance
Fans with higher static pressure are available for more demanding applications
Operational Explanation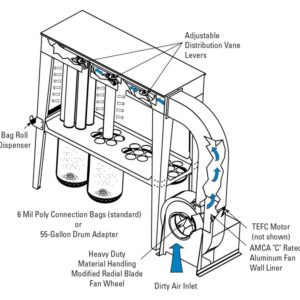 Dust laden air is pushed into the dirty air plenum by a high volume, high pressure heavy duty material handling fan. The dusty air is evenly distributed down inside of the high flow polyester bags which capture the dust and allow clean air to pass back into the work environment.
Dust captured inside the bag is carried down into the dust receptacles at the bottom of the collector via gravity and airflow. An optional automatic shaker is available for even better collector performance.
Dura-Life® Filter Bags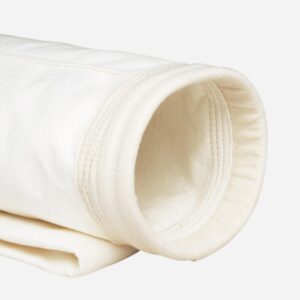 Traditional 540 g/m² / 16 oz/yd² polyester bags are produced via a needling process that creates larger pores where dust can embed into the fabric, inhibiting cleaning and reducing bag life. Dura-Life bags are engineered with a unique hydroentanglement process that uses water jets to blend the fibers. This process creates a felt with smaller pores which keeps more dust on the surface of the filter resulting in better pulse cleaning and longer bags life.
Dura-Life® Filter Bag Benefits:
Two to three times longer bag filter life
Reduced maintenance and replacement bag filter costs due to fewer bag changeouts
Fan energy savings due to lower pressure drop
Thirty percent fewer emissions based on EPA test