Donaldson Downflo® Series Dust Collectors
Smaller Footprint, Smarter Operation
Donaldson Downflo® Series dust collectors offer higher-efficiency dust collection in a smaller footprint & a lower cost of ownership than all the competition.
Downflo® Evolution - DFE Dust Collectors
The Downflo® Evolution (DFE) family of cartridge dust collectors is the result of Donaldson Torit's relentless drive to improve its products and exceed customer expectations. Donaldson Torit put decades of industry experience to work to produce a new, best-in-class dust collector capable of reducing equipment size and number of required filters by up to 40% compared to a typical cartridge collector.
Smaller Footprint
This smaller collector helps lower the initial purchase price, reduces filter replacement costs and opens up valuable manufacturing floor space.
Fewer Filter Changes
This state-of-the-art collector, coupled with Donaldson's industry-leading Ultra-Web® fine fibre filtration technology, delivers a significantly smaller equipment footprint with up to 40% fewer filters required, reducing maintenance time and overall cost of operation.
Revolutionary Airflow Management
The revolutionary Airflow Management directs incoming air to an intelligent dropout zone for reduced filter loading. This game-changing dust collection performance is achieved through a combination of design features that result in significant customer benefits.
Breakthrough Filter Cleaning
The DFE provides breakthrough cleaning performance resulting in improved filtration capacity without sacrificing filter life or taxing compressed air consumption.
The MaxPulse™ Cleaning System delivers 27% more cleaning energy to filtration media. This minimizes energy losses by focusing on the cleaning air's exact path and delivers uniform cleaning energy to all effective filtration media.
This proprietary pulse-shaping design distributes the cleaning energy evenly to match the unique shape of the filters providing more effective cleaning of the filtration media which results in increased airflow capacities through the dust collection equipment.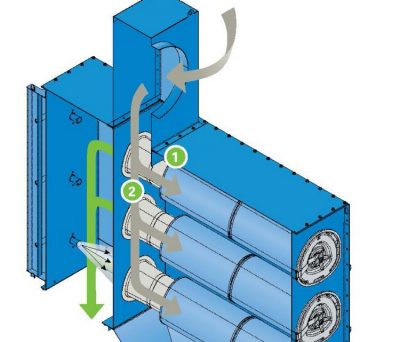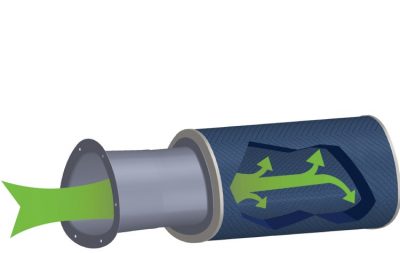 Packaged Downflo® Evolution - DFEP Dust Collectors
Plug & Play Operation
The Packaged Downflo® Evolution combines Donaldson's industry-leading cartridge technology with an integrated fan and electronic controls – all in a quiet, aesthetically pleasing package. This is a complete dust collection system that ships assembled for easy installation and operation.
Flexible
This Industry-leading technology will meet your expectations for clean air and reduced operating costs. The unit can be configured to fit site requirements.
Durable Construction
Durable construction and reliable operation for maximized production uptime.
Features & Benefits:
Clean Aesthetics
Strong and durable 10/12 gauge, all-welded Packaged Downflo Evolution dust collectors feature modern, clean lines to complement state-of-the-art manufacturing environments and are ideal for integration into OEM designs and a variety of applications.
Easy Service
Tool-free, hinged access doors allow simple, quick filter changeouts.
Easy Dust Disposal
Wheeled bins, available in two different sizes, make dust clean up simple and easy.
Downward Airflow Advantage
EPA-sponsored research has shown that "superior performance results from the downward flow of the dirty airstream, reducing re-deposition of dust onto filter packs." The Donaldson Packaged Downflo Evolution supports dust and fume control on continuous duty applications.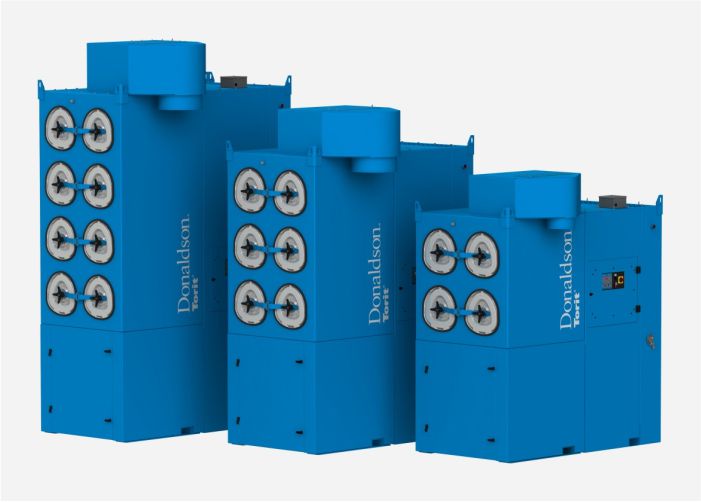 Maximize Space Utilization
Compact size and small footprint, the Packaged Downflo Evolution collectors are available up to 700 m³/min / 6,000 cfm.
Integrated Controls
Delta P and Delta P Plus control panels manage all collector functions, including the fan, filter differential, and pulse cleaning system.
Quiet Operation
Base mounted, high-performance fans minimize noise and exhaust sound abatement design delivers quiet operation.
Downflo® Oval - DFO Dust Collectors
Proven Design Delivers Value & Performance
The Donaldson Torit® Downflo® Oval cartridge dust and fume collector sets the standard for industrial dust collection – by providing a 25% increase in airflow capacity, improved airflow path, and a 29% increase in pulse cleaning pressure. These compact, high-efficiency units use high efficiency oval-shaped cartridge filters, especially well-suited for filtering the sub-micron dust.
A Family of Over-Achievers
The high-performance Downflo Oval (DFO) family of dust collectors provides up to 25% more filtration capacity than other same-sized cartridge collectors. Powered by proprietary Ultra-Web® fine fiber filtration technology, DFO delivers cleaner air, up to two times longer filter life, and greater cost savings.
A smaller collector helps lower the initial purchase price, reduces filter replacement costs and opens up valuable manufacturing floor space.
DFO Features & Benefits
Lower initial cost per cubic meter of air per hour (m3/h) / cubic foot of air per minute (cfm)
Higher efficiency—cleaner air
Lower pressure drop—greater energy savings
Fewer filter changeouts
Reduced filter disposal cost
Easy system setup
Less maintenance
Outperforms Other Collectors
The DFO collectors offer some strong benefits that distinguish them from all other collectors available in the market today.
Easy to Use
Quick-release handles provide easy cover removal and faster filter access.
Compact
Smaller footprints for applications that require maximum cleaning efficiency in even smaller spaces.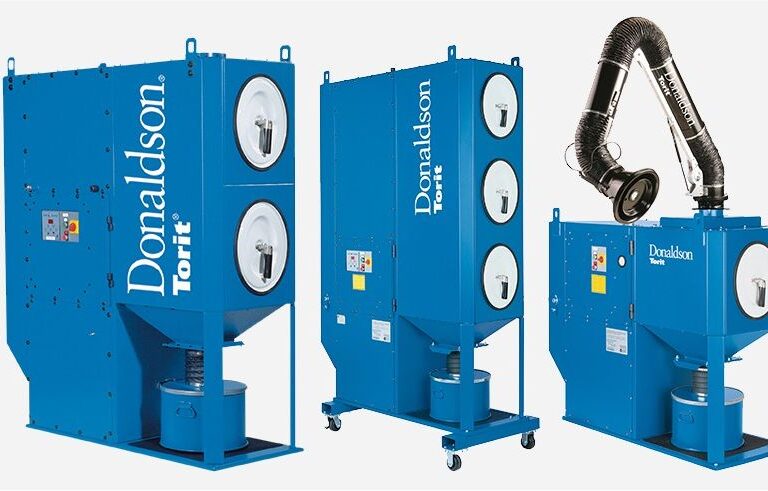 Powerful
DFO collectors provide 25% more capacity than same-sized dust collectors.
Cost-Effective
The proprietary ExtraLife Filter Cleaning System averages up to 30% increase in pulse cleaning energy for unmatched cleaning ability.
Innovative
Unique oval-shaped Ultra-Web cartridge filters provide the longest filter life and highest filtration efficiency—which lowers cost.
The Unique Oval Shape Contributes to Higher Airflow Capacity able to handle up to 25% more airflow without increasing velocities, which can cause filter abrasion. Sophisticated FLUENT® Airflow Modeling Software revealed that oval-shaped cartridge filters have fewer areas of high velocity, resulting in a lower potential for media abrasion and increased filter life.
Downflo® Workstation - DWST
Downflo® WorkStations (DWST) fit anywhere on the plant floor and apply NO restrictions to worker movements or visibility. The full line of WorkStations is designed specifically for those in-plant areas where dirty and/or noisy operations are out-in-the-open, like grinding, sanding, chipping, batch mixing or welding.​​​​​​​​​​​​​​​​​​​​
The Downflo WorkStation's advantages are found in the collector's exclusive design and proprietary components. Featuring a ledgeless design in combination with proprietary Ultra-Web® filter media, the DWST delivers exceptional performance in metalworking, woodworking, and process applications where high filtration efficiency and ledgeless construction are required.
DWST Features & Benefits
Flexible, Modular, Self-Contained Workstations
Energy savings – recirculate clean air and reduce the need for costly make-up air
Proprietary Ultra-Web cartridge filters provide cleaner air longer
Ledgeless construction minimizes dust build up inside the collector
Easy filter access requires no tools
Reversible louver inlets
No hoods or ductwork required
8 standard model sizes
Customized sizes available
Many options and accesories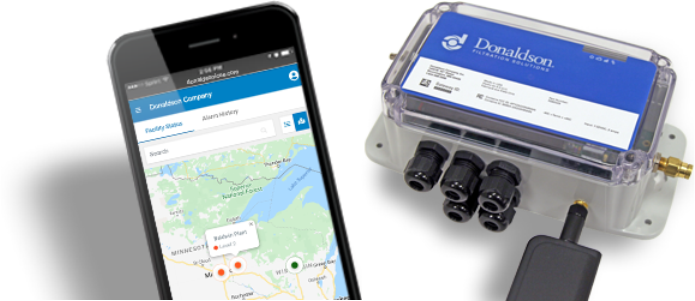 iCue Connected Filtration Service for Dust & Fume Collectors