AIRPLUS Industrial offers batch-type, continuous-flow or distillation column solvent recyclers – allowing solvent reuse & in-house treatment of hazardous waste
On-Site Solvent Recycling Saves Time, Reduces Costs & Increases Environmental Safety
AIRPLUS Industrial offers batch-type, continuous-flow or distillation column solvent recyclers that allow you to reuse solvents and treat your hazardous waste in your own facility. This reduces the possibility of spillage and cross-solvent contamination that may occur when outsourcing your solvent recycling needs. Cost savings can be substantial with equipment payback periods as short as 3 months in some cases.
Solvent Recycling & Distillation Systems
AIRPLUS Industrial offers ISTpure ™ on-site Solvent Recycling Systems. These systems provide cost-effective solutions for safely recycling solvents and other hazardous chemicals from industrial applications. The ISTPure systems are easy-to-use, require low maintenance and supervision, and are built with robust, corrosion-free stainless steel tanks.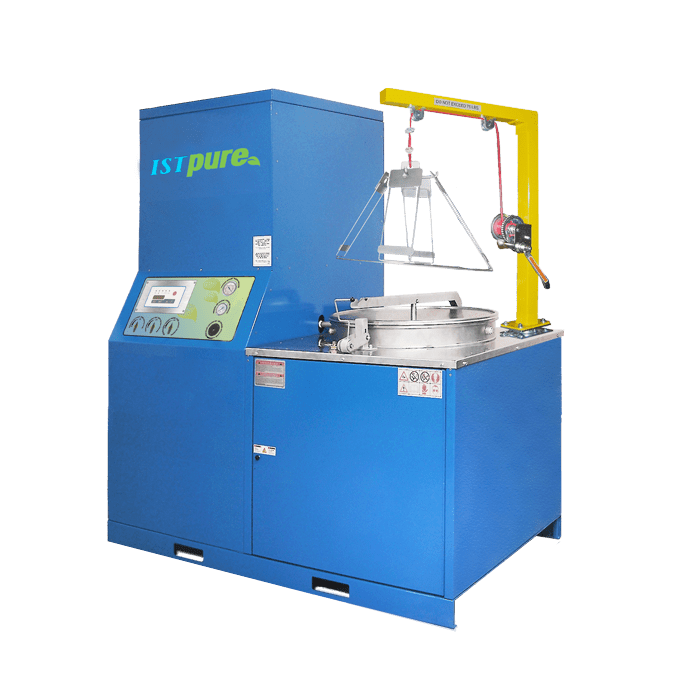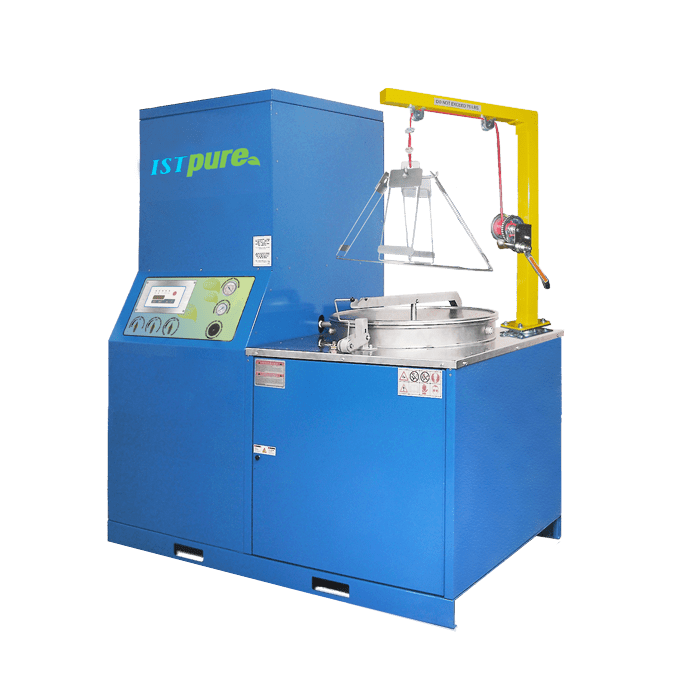 Solvent Recyclers Reduce Operating Costs
Our solvent recycling equipment has been proven to reduce hazardous waste disposal costs by up to 90% and up to a 95% reduction in new solvent purchases. Most clients have achieved a return on investment (ROI) in 4 to 12 months. The recovery rate of recycled solvent is over 97% pure by most clients, This recycled solvent that can be reintroduced in their processes, used and recycled again!
IST SR-180 Unboxing, Start-Up & Options
—- Chapters —-
0:00 Intro
0:21 Unpacking the Unit
1:04 Making Connections
2:25 Change Display from Celius to Fahrenheit (Optional)
2:41 Plastic Bag Installation
3:16 Start Up the recycler
4:17 Manual mode filling procedure (Start Up)
5:20 Automatic mode filling procedure (Start Up)- (Optional)
5:52 End of Cycle
6:27 Clean Solvent Unloading Procedure
6:50 Waste Displosal Procedure
7:56 Operational Guidelines
8:30 Lift-Bag System Installation
8:50 Oil Change
10:10 Gasket Change
10:50 Warranty Information & Technical Assistance
11:05 Outro
Solvent Recyclers Advantages Over Outsourcing
On-site solvent recyclers offer numerous advantages over outsourcing to disposal and recycling services. From cost savings to environmental benefits, improved efficiency to greater control, and customization, companies can benefit greatly from investing in an on-site solvent recycling system—key benefits include:
Cost savings: One of the most significant advantages of on-site solvent recyclers is the cost savings. Recycling solvents on-site reduces the amount of solvent waste generated thus reducing disposal costs. Additionally, on-site recycling systems can be a one-time investment that pays for itself over a short period of time.
Environmental benefits: Another important advantage of on-site solvent recyclers is that they can help reduce a company's environmental impact. Recycling solvents on-site can help minimize the amount of hazardous waste generated and reduce the risk of pollution.
Environmental Agency Compliance: On-site recycling systems can help companies comply with environmental regulations and demonstrate their commitment to sustainability. As a bonus, this can lead to less paperwork.
Improved efficiency: On-site solvent recyclers improves a company's efficiency by reducing downtime and increasing productivity. Companies that outsource their solvent recycling may experience delays and disruptions in their operations due to the need to transport and dispose of solvents off-site. On-site recycling systems eliminate this need, allowing companies to recycle solvents quickly and efficiently without any disruption to their operations.
Greater control: By recycling solvents on-site, companies can maintain greater control over their waste management processes. They can ensure that solvents are recycled properly.
Real-time Data: On-site recycling systems can provide companies with real-time data on their solvent usage and waste generation, allowing for informed decisions about their operations and identifying areas for improvement.
Customization: On-site solvent recyclers can be customized to meet the specific needs of each company. Depending on the volume and type of solvents used, companies can select a system that is tailored to their requirements and optimize the recycling process, increase efficiency, and reduce costs even further.
Determining Proper Solvent Recycling Equipment
Solvent Contaminate Evaluation
AIRPLUS Industrial will evaluate the solvents you use and the contaminate profile post-process, according to MSDS standards, before recommending a solvent recycling system for you.
Recycler Processing Capacity
AIRPLUS Industrial provides a range of solvent recyclers with capacities ranging from 30 litres daily to 1100 litres hourly. We match the proper equipment processing capacity to your specific requirements.
Types of Solvent Recyclers
Batch-Type Solvent Recyclers
The ISTpure™ SR Series batch-type solvent recyclers allow up to two distillation processes each day and are available in tank capacities of 30, 60, 120, 180 and 240 litres. These recyclers incorporate leading edge technological improvements in a vertical-design to create the most reliable, long-lasting and efficient solvent recycler in the industry.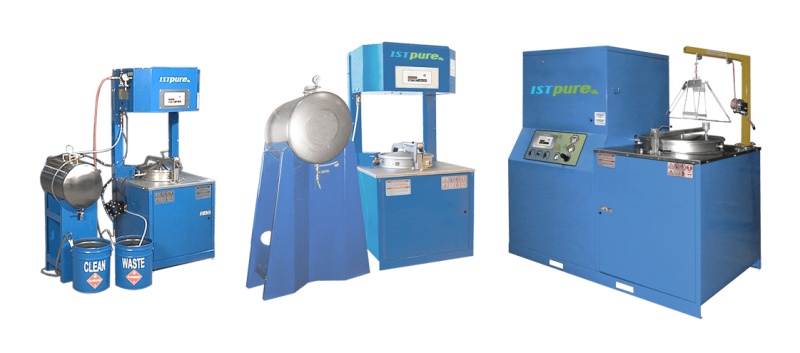 Use With Volatile Solvents
These units can include a vacuum option to accelerate distillation process or increase system performance when treating volatile solvents like acetone (C3H6O). Vacuum systems decrease the boiling point of solvents resulting in less energy consumption.
Continuous Flow Solvent Recyclers
The ISTpure™ CSR Series Solvent Recyclers provide a continuous flow distillation process of cleaning industrial solvents. These units are equipped with vacuum pump allowing safe transfer of solvent between a collection barrel and distillation tank during the process. The vacuum system also increases the performance of the distillation process. A scrapper that keeps bottom of tank clean and free of residue is included.
The ISTpure™ CSR Series Solvent Recyclers are suitable for an industrial company's daily consumption of solvent which ranges from 15 to 375 litres per hour.
Download Brochures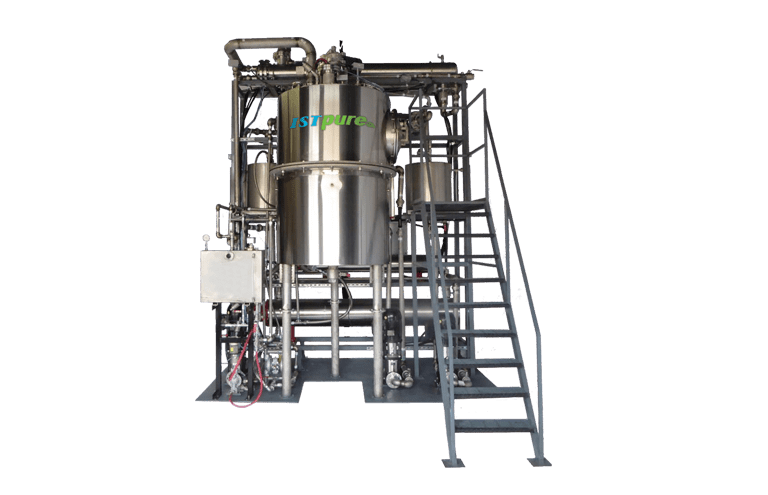 Customized Distillation Columns
The ISTpure™ SRXC series is a completely automated chemical distillation column designed to address a high purity chemical purification application across multiple industries.
The system is designed to remove water, cross-contaminate chemicals and other contaminants from the chemical being purified.
A specially designed fractional distillation column with a reflux stream is used to separate the materials continuously while keeping flow rates between 95 & 19000 litres per hour, 24 hours per day.
Download Brochures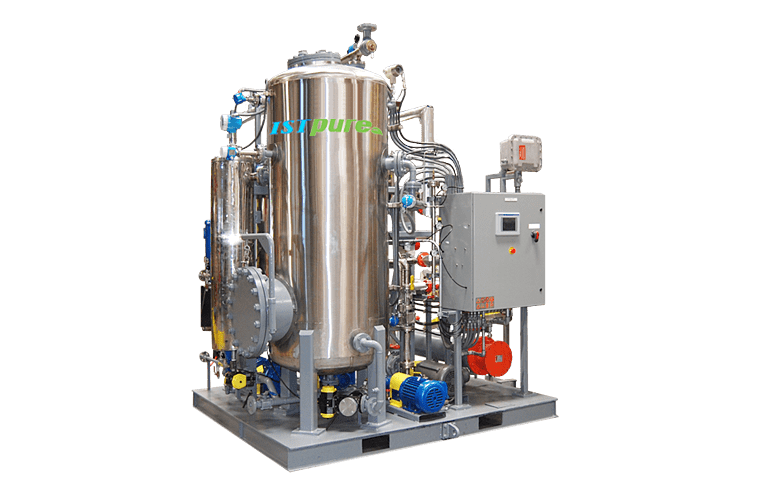 Solvent Recycler Certification
All solvent recycling equipment must be certified according to International Safety Standards:
CSA Certified, Class I, Division I, Group D
UL Standard 2208, Class 1, Div 1, Group D
NFPA 30
NFPA 33
NFPA 70
All solvent recyclers we provide adhere to these above standards.