Trunk 2000 (T-2000) Fume Collectors
Ceiling-Mounted with Extraction Arms for Source Collection
The Trunk 2000 fume collector is a ceiling-mounted, self-contained weld fume dust collector designed to capture fume generated from moderate-to-heavy welding applications.
Donaldson Trunk 2000 Fume Collector
The Trunk 2000 is designed to handle one or two welding stations using flexible Ex-Arms. Ceiling-mount configuration saves valuable plant floor space and provides optimum range of the Ex-Arms.
FLUENT* designed inlet and dust hopper minimizes fume re-entrainment and reduce maintenance expense
Automatic pulse-cleaning system for continuous welding operations
Proprietary filter cleaning system lengthens filter life
Ultra-Web® FR filter cartridges featuring fine fiber technology provide high filtration efficiency and long filter life
MERV** 15 filtration efficiency rating per ASHRAE 52.2-2007
Recirculation of clean air reduces need for costly make-up air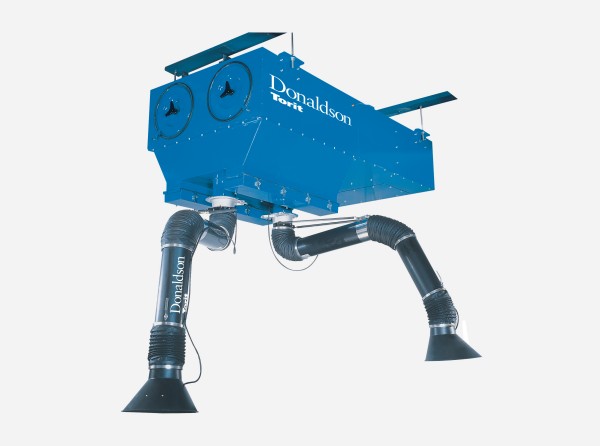 Choosing the Right Fume Collector for Your Facility
Choosing the proper fume-collection system for your application is dependent upon many factors. AIRPLUS Industrial has 30+ years of experience in designing, sourcing, installing and maintaining mist collection systems, we can help you choose the right system for your facility.