Industrial Dust Collection Equipment
Industrial Dust Control – system design, installation & maintenance in Western Canada. Dust collection equipment sales – Donaldson, NR Murphy, Nordfab brands.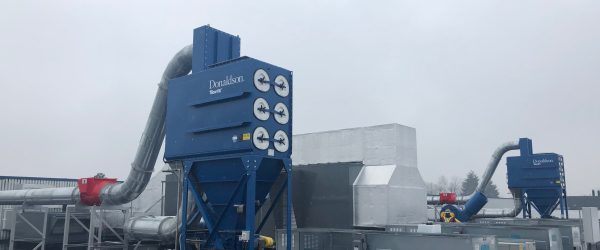 Key Industries
Grain
Lumber & Wood
Mining
Food
Fabricated Metals
Pulp & Paper
Pharmaceuticals
Commercial Cannabis
Dry Dust Control
AIRPLUS Industrial creates, budgets, designs dust collection systems, sources equipment, and installs and maintains all aspects of your dust collection systems. We provide you with the right dust collector, in the proper configuration, for your specific industrial dust — from metalworking and mining to woodworking and powder and bulk handling.
We start by analyzing contaminant profiles that need to be removed from the airstream and your overall process configuration. We then determine the best methods to remove and collect the dust, fumes or mist from the airstream. Next, we research and recommend the best equipment your application — whether it uses mechanical means or barrier filtration. We will install and test the system to ensure proper operation. If contracted, we can maintain the system for you, ensuring a safe and efficient dust collection system for many years.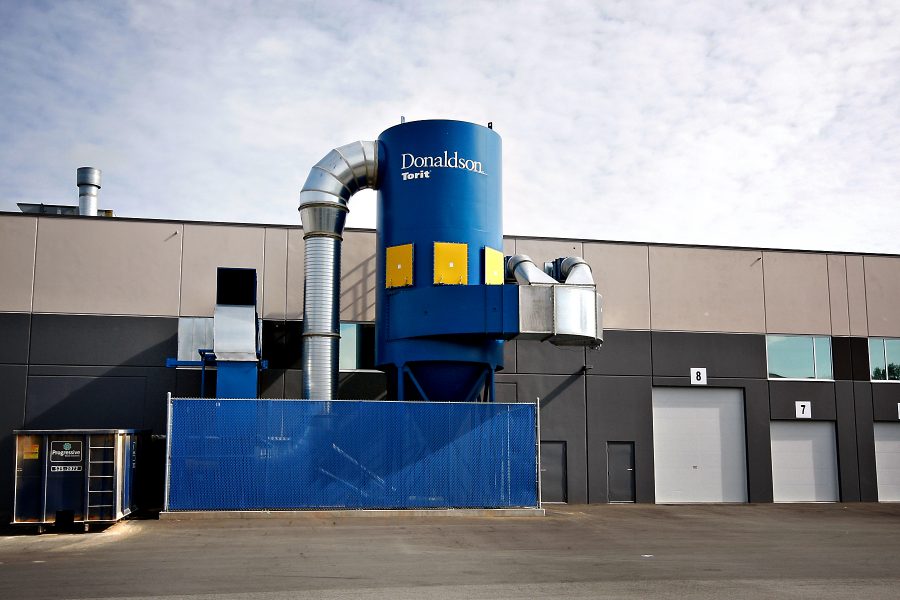 Types of Dry Dust Collectors
PowerCore Dust Collectors
PowerCore ® is a trademark technology produced by Donaldson Torit. Essentially these are cartridge dust collectors that use specialized filter cartridges, internal fans that force the airstream through the cartridges, an internal control system to sense the pressure drop across the filter and, at a set-point, will pulse-clean the filters.
Advantages of PowerCore Dust Collectors
The advantage of the PowerCore system is the small footprint required for the units. They can be used standalone at the dust source and be vented into the ambient air, or can be integrated into the overall ventilation system. Filter changeouts are easy and quick and the filters themselves come in different media for various dust collection applications including thermally generated dust and dust-fume combinations. These collectors can be paired with a hopper or conveyor to collect the filtered dust.
Cartridge Dust Collectors
Standard cartridge dust collectors use a variety of filter cartridges depending on the application. They are generally smaller than a traditional baghouse and are better suited to finer particulate. There are smaller units that can operate close to the dust source or larger units that connect to the ventilation system.
Advantages of Cartridge Dust Collectors
The advantages of cartridge dust collectors are generally they are smaller than a traditional baghouse and the cartridge changeouts are much easier and faster. There is a wide variety of filtration media for diverse applications. As filter loading builds up the filters are cleaned by a compressed-air pulse that causes the trapped particulate to drop off the filter into a hopper for disposal.
Baghouse Dust Collectors
Baghouse dust collectors are the traditional form of dust collection. They are very good at general dust collection and, if properly maintained, operate very efficiently.
Advantages of Baghouse Collectors
The main advantages of baghouse dust collectors over cartridge dust collectors are the overall efficiency, lower cost of filter media and less intense maintenance. On the downside, baghouse collectors are larger and filter changeouts are more difficult and take longer.
Cyclone Dust Collectors
Cyclone dust collectors spin the airstream in some way forcing it outward, through filter media using centrifugal force. Cyclone dust collectors are particularly good with high-dust loads and are often used as a pre-filtering unit to a baghouse collector, allowing the collector to work more efficiently.
Advantages of Cyclone Collectors
Cyclone dust collectors are very good with high-dust loads. They work well in high-temperature applications. Cyclone dust collectors are also good at product recovery for precious metal dust. They are a good choice for the pre-filtering of heavy dust load applications.
Wet Dust Control (Scrubbers)
In some cases wet dust collection or scrubbing is necessary. Scrubbers use water or other liquids to efficiently remove contaminants from airstreams where dry filtering alone is not effective. Industrial air scrubbers are used to remove fly ash, soluble gases, acids, chemicals, odours, VOCs, submicron particles, fumes and vapours. Scrubbers can be used in conjunction with fan separators and packed carbon beds depending on the type of compound that needs to be removed from the airstream.
After airstream analysis, we will determine what type and configuration of scrubber you require. We will design, install and test the system to ensure proper operation. If contracted, we can maintain the system for you.