Nortech Air-Power Vacuum Head N551B
Convert 55-Gallon Drum into an Industrial Vacuum Cleaner
Nortech N551B converts a 55-Gal drum into a high-flow industrial vacuum cleaner with suction to clean anything that fits through the 2″ hose. Runs on compressed air.
NORTECH Vacuum Generating Head
The NORTECH Model N551B Vacuum Generating Head With 2″ Hose Adapter is ready to mount on any standard 55-Gallon Drum (22 Gauge Minimum). The head & drum are instantly transformed into a high-volume industrial vacuum cleaner.
Unit includes internal filter and exhaust silencer. Can be used for wet or dry clean-ups.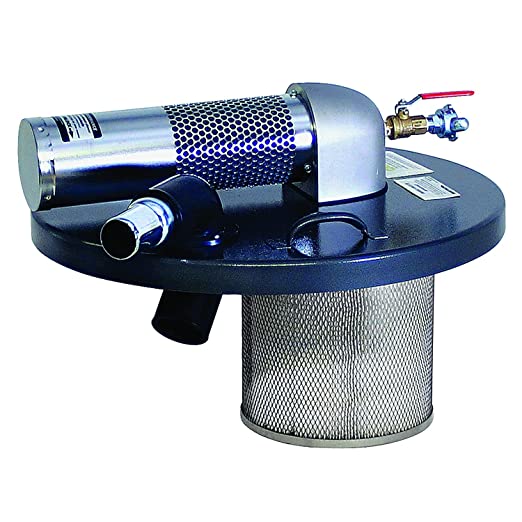 Can Handle the Toughest Cleaning Jobs
This unit will handle your toughest clean-up problems with speed and ease. The suction power can pick up virtually anything that will pass through the hose whether it be dirt, sand, chips, water, oil, nuts, bolts or other items.
Powered by compressed Air
Powered by compressed air, always dependable & trouble free with no motors or moving parts to wear out, nortech vacuum generating heads produce exceptional vacuum lift & vacuum flow while operating quietly & efficiently.  Options include: liquid shutoff assembly, HEPA filtration, & extra silent exhaust.
Mounts To A 55-Gallon Drum (22 Gauge Minimum)
High-Volume Flow
Vacuum Hose Fitting: 2″ (Adapter Included)
Air Consumption: 68 CFM Minimum @ 100 PSI (15 Horsepower)
Use Mininum 3/4″ ID Air Hose To Vacuum Head
Maximum Suction: 17.0″ Hg
Maximum Volume: 89 CFM
Vacuum Lift (In H2O): 185
Sound Level dBA: 102 dBA
Product Dimensions: 23″ x 23″ x 14
Choosing the Right Vacuum System for Your Facility
Choosing the proper vacuum system for your application is dependent upon many factors. AIRPLUS Industrial has 30+ years of experience in designing, sourcing, installing and maintaining vacuum systems, we can help you choose the right system for your facility.