iCue ™ Dust Collector Remote Monitoring
Aggregate Data from Several Machines in Multiple Locations
Overview of Donaldson iCue™ Monitoring System
The first offering in the Donaldson iCue family of IIoT — Industrial Internet of Things — services. iCue is a subscription-based, remote monitoring service for industrial dust collectors, using IIoT, able to aggregate multi-location data into one dashboard. This service will monitor industrial dust collectors, through the use of attached sensors, and send real-time data and alerts directly to facility management teams to ensure timely maintenance of the system.
Effective Maintenance of Complex Operations
Donaldson's iCue™ monitoring service was developed to help maintenance managers and plant engineers effectively monitor and maintain complex industrial equipment by digitally monitoring dust collection equipment performance, creating reports and sending real-time alerts to the team.
Reduce Downtime
The system is designed to reduce downtime by monitoring key parameters on the collector and prompting proactive changes by the maintenance team. It also allows management to set alarms to notify appropriate teams that the dust collector is operating outside of normal parameters.
Support Efficient Maintenance & Operation
Being able to monitor the status of all your dust collectors from a single dashboard allows your teams to become aware of issues before larger problems can arise that require more intensive corrective actions.
Provide Intelligent Insights
Viewing historical data can aid in optimization of your dust collection operations. Weekly summary reports on system status and performance of your dust collectors can help ensure you are maintaining a safe and compliant work environment.
iCue™ Product Features
The product feature of the Donaldson iCue™ monitoring system includes:
iCue™ is available for Donaldson Collectors and other major dust and fume collector brands
iCue™ is available as an add-on option with new Donaldson dust collectors
iCue™ is easy to install using a cellular gateway that mounts directly to dust collector magnetically
iCue™ does not require any modifications to existing controllers
iCue™ uses secure cloud and network communication to keep data separated from your existing internal networks
How the iCue™ Monitor System Works
Donaldson's iCue connected filtration service for dust collection provides a variety of sensor options that enable operators to track the parameters that are most important to their unique operations.
Basic Operation
Sensor Gateway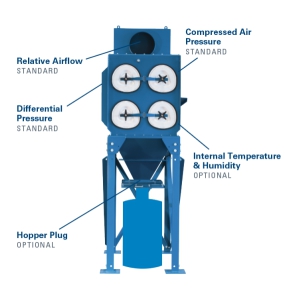 Each sensor gateway consists of a sensor tranducer that takes measurements and a gateway that sends data through the connected network to the secure cloud. Each Sensor monitors the dust collector's core operation by tying into existing airlines and measuring:
differential pressure
compressed air pressure
relative airflow
internal tempurature & humidity (optional)
hopper plug (optional)
Additional sensors can be added based on the unique needs of the application
Secure Data Transfer Through Cellular Network
The aggregated data is sent to Donaldson's secure cloud via a cellular connection. This avoids the exposure of your facility's internal network.
System Monitoring Using Browser Dashboard
An easy-to-use online dashboard allows monitoring of all connected dust collectors from one or more facilities, in seconds and a status report is delivered, summarizing the overall status and performance of all connected dust collectors, each week.
Real-Time Alerts
Immediate alerts notify responsible parties when issues arise that may require attention.
Performance Analysis
Complex analysis can be done using plotted data collected from various sensors and timeframes allowing visualization of longer-term performance trends.
Manage Team Access
You can manage your team's access (add/remove) over time with support from Donaldson's dedicated Customer Success Reps.
Manage Alert Levels
You can adjust alert levels as things change for your dust collectors or processes over time.
Download Brochures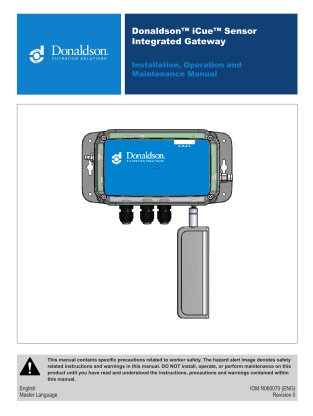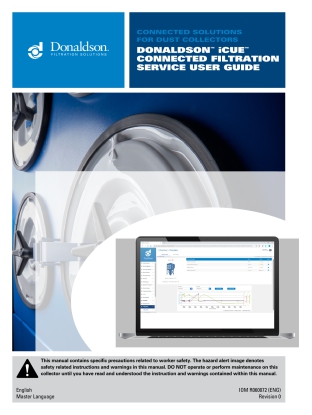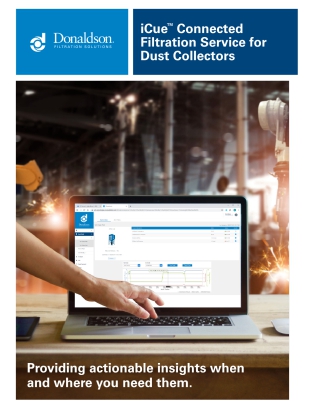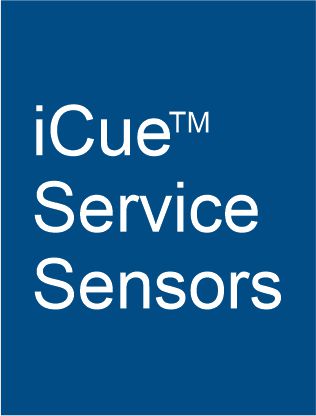 Related Articles