Design Solutions for Industrial Air Systems
AIRPLUS Industrial is known for its ability to design, create & install unique equipment configurations to meet demanding in-the-field or in-plant situations.
Unique System Designs for Unique Situations
The variety of industries in British Columbia, and the Canadian West in general, gives rise to several unique industrial situations, due to environs, locations or raw materials being processed. These applications' dust, mist and fumes require collection and filtration regardless of the situation. AIRPLUS is known for its ability to design unique equipment configurations to accommodate even the most demanding applications and situations.
Unique Engineering Design Examples:
At-Process or Machine-Mounted
Some machines or processes require specialized filtration or collection to adequately provide a clean safe working environment. We are capable of providing designs that can take care of these special needs while integrating the system into the collection system for the facility.
Small-Shop Dust Collection
Even small shops providing services for larger industrial operations require their own dust, fume or mist collection systems. These shops often do not have the resources to install, set up and maintain these systems adequately. AIRPLUS is able to design turn-key for small-shop situations and provide ongoing service and maintenance to the system running at peak performance.
All-in-one Packaged Systems
Sometimes an industrial process requires a unique set of different dust, mist & fume collection to work in concert to be effective. AIRPLUS is experienced in designing packaged systems that work together to a single outcome—clean air.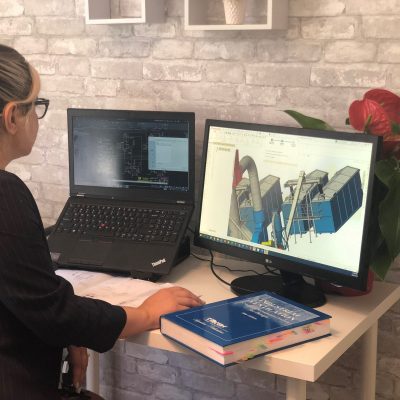 Plug-and-Play Compressor Rooms
Many industries in BC work "in the wild" where the availability of compressed air to power certain processes and tools is a must. For these situations AIRPLUS designs and manufactures plug-and-play compressor rooms in a box—actually, in a shipping container. These systems are self-contained compressor rooms that can be moved and dropped at a remote location via transport truck or rail, plugged into electric power to provide the required compressed air for the worksite. 
As the job site moves the compressor room can move with it.
End-to-End Full Compressor Systems
AIRPLUS Industrial Corp. has capabilities of designing, manufacturing and installing air compressor systems, up to 150 HP, to meet your facility needs or deploy them at your job site, satisfying your compressed-air requirements and integrating them into existing systems as needed. 
Portable Compressed Air Systems for Rail
AIRPLUS Industrial is ISO 9001 certified to create packaged component products to meet unique needs of the railway industry. We take existing components and configure them to work as a system and package them, creating an off-the-shelf product that can be ordered as a unit and is the same every time. This saves our clients time creating designs, requesting RFQs and having to "recreate the wheel" each time these products are needed.
Custom Design for Your Unique Need
If you have unique requirements for dust, mist and fume collection, air-compressor system, or breathing-air system we are experienced and capable of designing, building and installing a system built to meet your special requirements.
Design • Manufacture • Install