Rugged Pleat Baghouse Collector
The New Standard in Baghouse Dust Collectors
The Donaldson Rugged Pleat (RP) Baghouse sets a new standard for baghouse dust collector performance, combining advanced collector design with superior filtration technology in our most maintenance-friendly design ever.
Donaldson Rugged Pleat (RP) Baghouse Dust Collector
The award-winning Rugged Pleat Baghouse is ideal for the heavy and/or abrasive dust applications typically found in woodworking, mining, grain processing, and other industries. Combining a cyclone pre-cleaner and baghouse into a single unit, the Rugged Pleat handles heavy dust loads and large air volumes and uses a PD pump cleaning system to provide energy-efficient filter cleaning. But, the Rugged Pleat goes even further, incorporating advanced Donaldson filtration technology that leaves the competition behind.
SuperSep™ inlet system

Pre-separates up-to-97% of heavy dust before it even reaches the filters
EvenFlow™ baffles

Helps to reduce turbulence and evenly distribute airflow to all filters
Ultra-Web® Spunbond Pleated Filter Bags

Ultra-Web® Spunbond media provides 94% fewer emissions than standard 16-oz. singed polyester felt and is more durable for heavy dust applications
PD pump 

Comes with the collector and provides energy-efficient pulse air with reduced condensation for fewer problems with moisture in the winter due to freeze-up.
PerfectPulse™ cleaning system

Delivers every pulse directly over the filter to ensure more effective bag cleaning and support longer filter life
Up to 44% Fewer Filters*

Optimally-sized Pleated Filter Bags designed to maximize the amount of media per filter, resulting in 44% fewer filters to service
*¹Compared to typical round baghouse collectors. ²Based on 44% fewer filters, observational studies indicate that replace RP filters takes 50% less time than traditional snap-in bag and cage filters.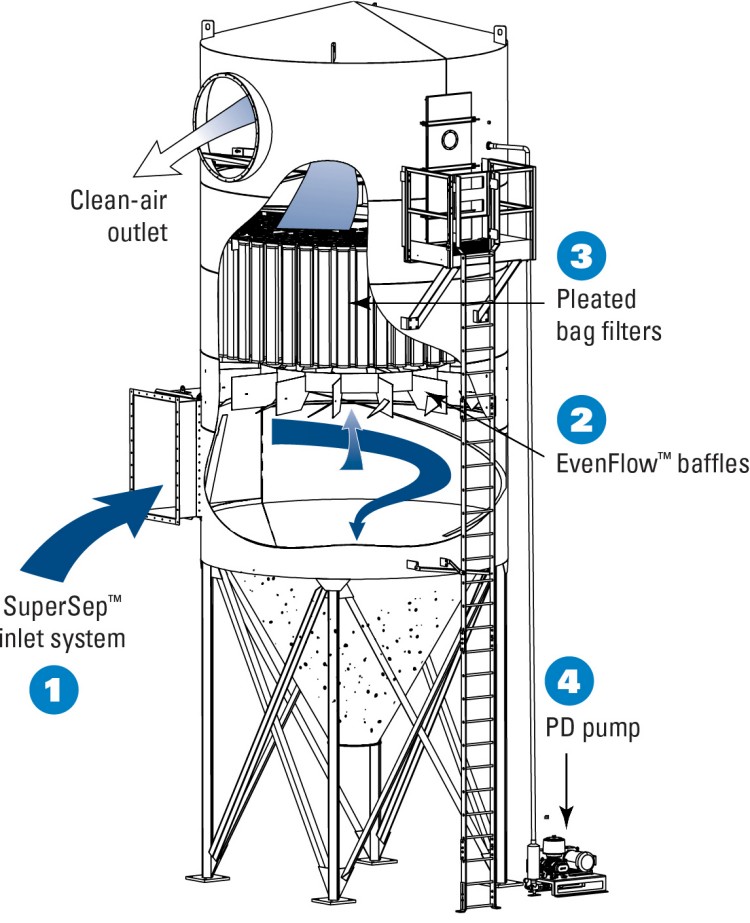 Intelligent Filter Design
The advanced construction and optimally-sized pleated filters of the Rugged Pleat enable the collector to provide the same airflow capacity as traditional round baghouses with up to 44% fewer filters. With fewer filters, the downtime needed for change-outs is easily reduced. Rugged Pleat filters are only 5 feet tall so they are much easier to handle than conventional 8-, 10- or 12-foot bags and cages.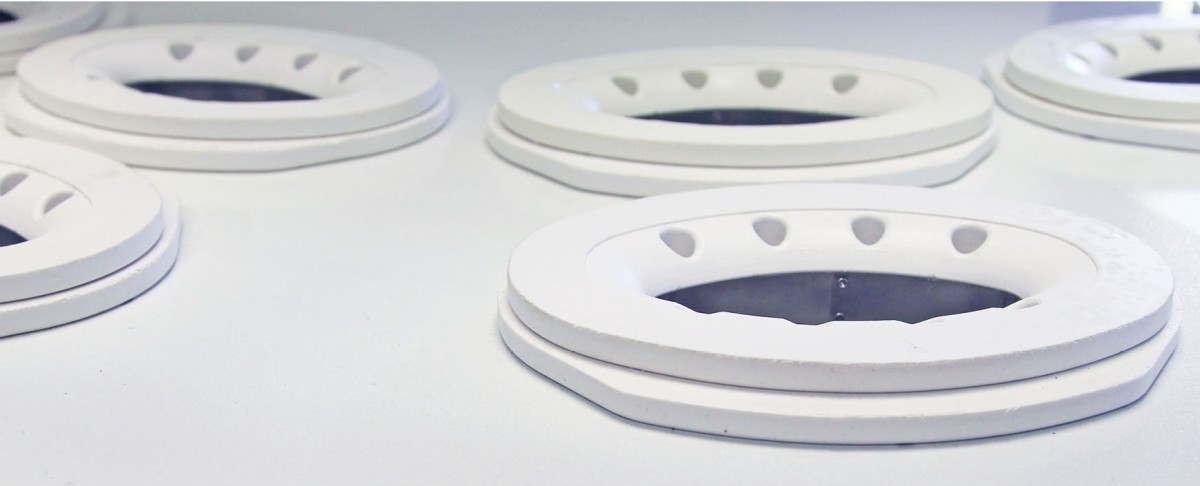 Advanced Filter Technology
Donaldson has continually advanced our proven Ultra-Web® fine fiber technology. Ultra-Web® provides a very fine, continuous fiber of 0.2-0.3 microns in diameter to form a web-like net that traps dust on the surface of the media. Combining Ultra-Web® technology with a sturdy spunbond polyester substrate, Ultra-Web® SB pleated bag filters provide longer life, reduced downtime, and reduced emissions.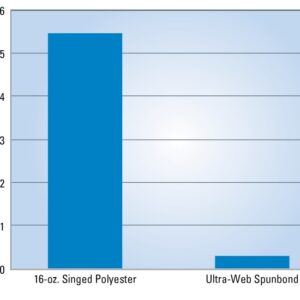 Ultra-Web® Spunbond Pleated Filter Bag Benefits
Media is more efficient in capturing submicron dust particles (0.3 micron and larger)
Longer filter life and better pulse cleaning due to surface loading technology
Lower energy use with better pulse cleaning and lower operating pressure drop
More clean air, supporting longer filter life, and help to increase cost savings
Built-in venturi and tertiary holes to increase pulse pressure longevity to improve pulse effectiveness and filter cleaning without creating dead space below the tubesheet
Improved Control Panel UI
The Rugged Pleat baghouse also offers a new, easy-to-use control panel. It provides at-a-glance monitoring of the complete system, so you know that your Rugged Pleat collector is running at optimal performance.
It also offers features such as an airflow controller which can increase fan speed as filter life progresses to help your system run more efficiently to help lower your energy costs.
IoT Enabled with iCue™ Connected Filtration Service
This collector is now enabled with Donaldson's iCue™ connected filtration monitoring service. Designed to remotely monitor a facility's dust collection equipment and provide operational insights directly to end-users, this information can help manufacturers reduce unplanned downtime, support efficient maintenance and operation, and automatically capture compliance data.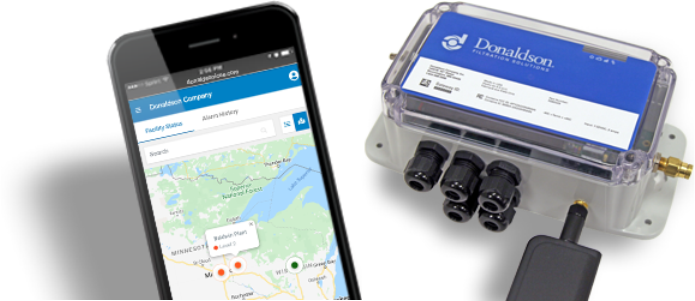 iCue Connected Filtration Service for Dust & Fume Collectors