Modular MediaFilter™ Horizontal Mist Collector
Space-Saving Ceiling-Mount Mist Collection
High-performance mist collectors for ambient or source capture of mist, smoke, dust, fume & odours from grinding, wet machining, soldering & metalworking applications.
Modular MediaFilter™ Horizonatal Mist Collectors
The Modular MediaFilter™ Horizontal mist and smoke collector provides flexible, high performance mist collection for a wide variety of applications including grinding, wet machining, rubber machining, die casting, wet grinding or soldering.
The Modular MediaFilter Horizontal mist collector system adapts to changing needs such as smoke, dust and fume filtration, saving the cost of a new filtration system. Whether you require horizontal or vertical configuration, we can design and supply a mist collector system to meet your needs.​
Features
Modular design customizes unit to specific application
Offers a variety of design layouts and filter choices for both flexibility and expandability
Wide range of power packs, prefilters, filters, and module options
Ceiling mount, horizontal design saves valuable floor space
Design features provide easy filter changeout and simple maintenance
Available in ambient or source capture models
Provides a cleaner work environment for maximum productivity
Helps support OSHA Clean Air Standards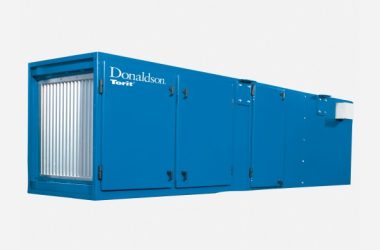 Standard & Optional Features
40% ASHRAE Multi-VEE
Prefilter for dry or slightly wet dust or gas and vapor (609.6 x 609.6 x 101.6 mm / 24 x 24 x 4 in.).
Impinger
101.6 mm / 4 in. prefilter for light to heavy mist or dust collection in wet and dry grinding.
Aluminum Mesh Prefilter
Aluminum mesh filter works to trap large particles (609.6 x 609.6 x 25.4 mm / 24 x 24 x 1 in.).
Optional First-Stage High Efficiency Filter
101.6 mm / 4 in. prefilter for heavy mist applications.
Primary Filter Module
Primary filter module for filtering mist, smoke, dust, and fumes.
95% ASHRAE VEE-Bag
914.4 mm / 36 in. fiberglass vee-bag captures the remaining mist particles.
HEPA Filter Module
Secondary afterfilters for heavy smoke, dust, and fume.
Powder Coat Finish
Powder coating finish is durable and chemical resistant.
Power Pack with Direct Drive Fans
Equipment Options for Source Collector Modules
First-Stage High Efficiency Filter
(609.6 x 609.6 x 101.6 mm / 24 x 24 x 4 in.)
Multiple power pack options, including explosion-proof motors
First-Stage Multi-VEE Filter
(609.6 x 609.6 x 101.6 mm / 24 x 24 x 4 in.)
P-Trap assembly
HEPA/95% DOP Filter Module
(609.6 x 609.6 x 292.1 mm / 24 x 24 x 11.5 in.)
P-Trap with Y-Strainer assembly
Carbon Filter Module
3.8 L / 1 gal container​
Choosing the Right Mist Collector for Your Facility
Choosing the proper mist-collection system for your application is dependent upon many factors. AIRPLUS Industrial has 30+ years of experience in designing, sourcing, installing and maintaining mist collection systems, we can help you choose the right system for your facility.