Elevator Series Industrial Vacuum
Quickly Fill Supersacs, Drums or Hoppers for Material Reclamation
DuroVac's Elevator Series of industrial vacuums provide exceptional cleaning capacity, can be used for product reclamation & will use supersacs, drums or hoppers.
Elevator Series Industrial Vacuum
An evolution of the popular PowerLift series, the Elevator (EL) Series of industrial vacuums is designed to quickly fill Supersacs, drums or hoppers for material reclamation.
Available from 20 to 40 horsepower, the EL industrial dust filtration systems combine forklift portability with incredible filtration. This explosion-proof industrial vacuum makes it easy for plant workers to collect almost any dry powder, pellet or granule. With the use of this vacuum, it becomes much easier to keep your facility clean and safe.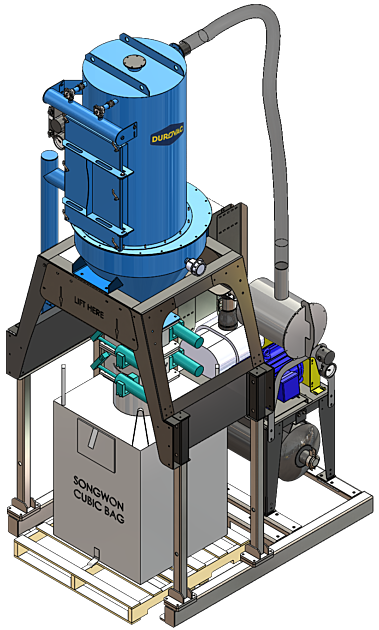 Pre-wired and factory tested cyclone dust collection system saves you thousands in installation costs.
Three-stage filtration handles carbon black, super-fines, wood fibers or pellets.
Plug-and-play design. Simply bring power and utilities, and you're good to go!
Quickly fills drums or Supersacs.
Perfect engineered industrial vacuum for silica dust or other toxic materials (HEPA grade filtration).
Easily transport to the mess, elevate the filter housing and set snap-lock pins, and then start operating at maximum efficiency in minutes.
Configurable for NPFA compliance, continuous or batch material disposal, weather and dust protection, and more.
Choosing the Right Vacuum System for Your Facility
Choosing the proper vacuum system for your application is dependent upon many factors. AIRPLUS Industrial has 30+ years of experience in designing, sourcing, installing and maintaining vacuum systems, we can help you choose the right system for your facility.