Industrial Fans & Blowers
Fans For All Applications
Ready-Made Fan Integration
AIRPLUS Industrial carries a full line of industrial fans for virtually every industry and application.
Axial Fans
Our line of inline axial fans are used in applications where space is at a premium; from low pressure / high volume ambient air movement, to heavy industrial custom process applications. Some typical applications for axial fans include air-assist flares, combustion air, mining, high-plume, waste water treatment air movement, transportation, pulp/paper, and process supply/exhaust.
Centrifugal Fans & Blowers
We also offer an extensive line of centrifugal fans and blowers designed to work with a wide range of airstreams ranging from clean air to bulk material handling across a variety of air flows relative to static pressure and temperature.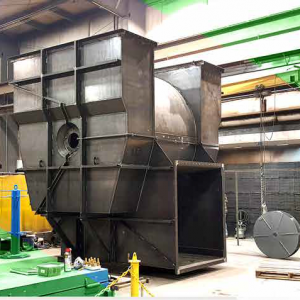 Custom Fans & Blowers
Custom & Proprietary Applications often require fans built to custom specifications. AIRPLUS, in partnership with New York Blower Heavy Industrial Fans, can design and source fans to meet your application specifications. Often our clients' requirements include high-efficiency fans, abrasion-resistant fans and high-temperature fans. API Process Industry Practises are observed.
Custom Fan & Blower Categories
We can design, build and install a wide variety of fan and blower products to meet a diverse range of needs. These designs fall into several categories or types of fan products including: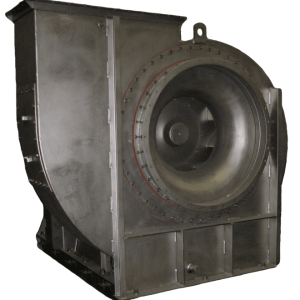 Centrifugal Ventilator Fans
Axial Ventilator Fans
Plenum Fans
Double Width Fans
Fibreglass Reinforced Plastic Fans
Process Heat or Plug Fans
Fan Maintenance & Options
We can supply and install replacement components for your existing fans and blowers. There are a number of options that can be added on to your existing fans and blowers or be incorporate into the original custom design. We offer:
OEM Industrial Fan Components
Silencer Solutions
Flexible Connectors
Steam Coil Products
Replacement Parts
Fans & Blowers for Corrosive Environments
AIRPLUS offers the broadest and most complete line of industrial and commercial corrosion-resistant blowers and fans. We offer products that are AMCA certified for performance and noise. These fans and blowers are installed wherever there are problems with corrosion due to the contaminants in exhaust air or process gas streams.
FRP – Fibreglass Reinforced Plastics
Our product line of Fibreglass Reinforced Plastic fans are made from a thermoset plastic material, that has a highly crosslinked molecular structure. The result is a flexural, tensile strength, and temperature performance that is twice that of most thermoplastics.
Noise Control Solutions
AIRPLUS uses a systems approach to applied noise control engineering. Silencers are adapted to your mechanical system – not the other way around. We work closely with Mechanical Engineers and Acoustic Consultants in the analysis and product selection for your silencing requirements.
Fan System Noise Control
Our silencers are aerodynamically optimized to deliver high levels of attenuation with minimal pressure drop without any adverse fan system interactions.
Turbine System Noise Control
We can designs and source a complete line of noise control products for gas turbine applications that meet the high performance demands and rigorous quality standards of modern power-plant facilities.
AMCA Standards
The suppliers we partner with manufacture their products in Air Movement and Control Association (AMCA)-registered laboratories that allow them to meet the highest standards in product development and performance testing. All products undergo extensive air performance, sound and quality assurance testing.
Brands We Trust
Cement and Lime
Iron, steel and Metal
Mining